Array
(
    [code_client] => 73012
    [motdepasse_client] => Array
        (
        )

    [reference] => 730127242
    [date_creation] => 20220617
    [date_maj] => 20221028 15:57:07
    [date_maj_prix] => Array
        (
        )

    [agence] => GSI IMMOBILIER
    [agence_numage] => 73012
    [agence_tel] => Array
        (
        )

    [agence_email] => Array
        (
        )

    [agence_adresse] => Siège social 22 Square de la Liberté
    [agence_cp] => 73600
    [agence_ville] => MOUTIERS
    [agence_fax] => Array
        (
        )

    [agence_site] => www.gsi.immo
    [societe_raison_sociale] => GSI IMMOBILIER
    [societe_forme_juri] => SAS
    [societe_siret] => 333 999 365 
    [societe_capital] => 500000.00
    [societe_tva_intra] => FR38333999365
    [societe_adresse] => Siège social 22 Square de la Liberté
    [societe_code_postal] => 73600
    [societe_ville] => MOUTIERS
    [societe_carte_pro_num] => CPI73012016000005545
    [societe_carte_pro_date] => 20220322
    [societe_carte_pro_pref] => Chambre de Commerce et d'Industrie de la Savoie - 5, rue Salteur - CS 22416 - 73024 CHAMBERY Cedex
    [societe_directeur_publication] => Stéphane GIRAUD
    [societe_caisse_garantie] => GALIAN Assurance, 89 Rue de la Boetie 75008 PARIS, 640 000 €
    [societe_rcs] => B333999365
    [nego_nom] => Bastien MARY
    [nego_tel] => 06 71 78 89 99
    [nego_email] => bmary@gsi.immo
    [nego_cp] => 73600
    [nego_ville] => MOUTIERS
    [nego_latitude] => Array
        (
        )

    [nego_longitude] => Array
        (
        )

    [nego_siren] => Array
        (
        )

    [mandat] => 9558
    [type_mandat] => exclusif
    [date_debut_mandat] => 20220606
    [date_fin_mandat] => 20230606
    [operation] => vente
    [cession_droit_bail] => 0
    [vendu_loue] => 0
    [viager] => 0
    [viager_bouquet] => 0.00
    [viager_rente] => 0.00
    [viager_nb_tetes] => 0
    [viager_age_tete_1] => 0
    [viager_age_tete_2] => 0
    [famille] => maison
    [type] => Maison
    [idtype] => 1
    [code_postal] => 73260
    [ville] => LES AVANCHERS VALMOREL
    [latitude] => 0.7937393711454
    [longitude] => 0.1126721384169
    [geoloc_precise] => 0
    [pays] => France
    [zone] => VALMOREL
    [secteur] => VALMOREL
    [prix] => 474000
    [loyer_reference_majore] => Array
        (
        )

    [encadrement_loyer] => Array
        (
        )

    [loyer_de_base] => Array
        (
        )

    [complement_loyer] => Array
        (
        )

    [date_dispo] => Array
        (
        )

    [date_echeance_preavis] => Array
        (
        )

    [taxe_habitation] => 0.000000
    [taxe_fonciere] => 0.000000
    [charges_mensuelles] => 0
    [pas_de_porte] => 0.00
    [siret] => Array
        (
        )

    [vedette] => 0
    [prestige] => 0
    [neuf] => 0
    [surf_hab] => 100
    [surf_sejour] => 31
    [surf_bureau] => 0
    [surf_carrez] => 0
    [surf_terrain] => 0
    [piece] => 6
    [chambre_hotes] => 0
    [plain_pied] => 0
    [nb_etage] => 1
    [num_etage] => 0
    [dernier_etage] => 0
    [rdc] => 0
    [nb_chambre] => 2
    [chambre_rdc] => 0
    [nb_sdb] => 0
    [nb_salle_deau] => 1
    [nb_wc] => 1
    [chauffage] => bois
    [balcon] => non
    [cuisine] => aménagée, équipée
    [cour] => 0
    [meuble] => 1
    [ascenseur] => 0
    [nb_garage] => 1
    [nb_parking_int] => 0
    [nb_parking_ext] => 1
    [terrasse] => 1
    [avec_exterieur] => 1
    [piscine] => 0
    [vue] => Dégagée, Montagne
    [ebe] => 0.00
    [ca] => 0.00
    [bail_duree] => Array
        (
        )

    [bail_date_fin] => Array
        (
        )

    [longueur_vitrine] => 0
    [annee_constr] => 1926
    [cave] => 0
    [exposition] => Sud Ouest Est 
    [etat_general] => Array
        (
        )

    [defisc] => 0
    [visite_virtuelle] => Array
        (
        )

    [dist_centre_ville] => Array
        (
        )

    [dist_Animation] => Array
        (
        )

    [dist_ecole] => Array
        (
        )

    [dist_Commerce] => Array
        (
        )

    [dist_bus] => Array
        (
        )

    [dist_plage] => Array
        (
        )

    [dist_autoroute] => Array
        (
        )

    [dist_tramway] => Array
        (
        )

    [dist_aeroport] => Array
        (
        )

    [dist_gare] => Array
        (
        )

    [dist_port] => Array
        (
        )

    [proximite] => Array
        (
        )

    [environnement] => montagne
    [titre_fr] => Bien unique à la vente!
    [texte_fr] => Venez découvrir en exclusivité chez GSI, un bien d'exception!     Dans un cade idyllique à une altitude de 1400m. Un panorama exceptionnel pour ce chalet d'alpage rénové accessible par piste l'été. Proximité des pistes de ski.     Chaleureuse ambiance montagne avec ces belles pièces en vieux bois. Grand séjour lumineux avec charpente apparente, cuisine aménagée et équipée, 2 chambres, une spacieuse mezzanine qui offrira le confort pour toute votre famille!    Garage et grande véranda en rez de jardin. Eau de source, électricité avec panneaux solaires vous procure l'autonomie dont vous avez besoin. Profitez de ce bien unique avec une histoire et un cadre somptueux!
    [titre_uk] => Array
        (
        )

    [texte_uk] => Come and discover exclusively at GSI, an exceptional property! In an idyllic setting at an altitude of 1400m. An exceptional panorama for this renovated alpine chalet accessible by track in summer. Close to the ski slopes. Warm mountain atmosphere with these beautiful pieces in old wood. Large bright living room with exposed beams, fitted and equipped kitchen, 2 bedrooms, a spacious mezzanine which will offer comfort for your whole family! Garage and large veranda on the ground floor. Spring water, electricity with solar panels gives you the autonomy you need. Enjoy this unique property with a history and a sumptuous setting!
    [titre_de] => Array
        (
        )

    [texte_de] => Array
        (
        )

    [titre_es] => Array
        (
        )

    [texte_es] => Array
        (
        )

    [titre_it] => Array
        (
        )

    [texte_it] => Array
        (
        )

    [titre_nl] => Array
        (
        )

    [texte_nl] => Array
        (
        )

    [dpe_non_soumis] => 0
    [dpe_consom_energ] => 365
    [dpe_lettre_consom_energ] => E
    [dpe_emissions_ges] => 15
    [dpe_lettre_emissions_ges] => C
    [dpe_etiquettes_vierges] => 0
    [dpe_date] => 20220630
    [dpe_depenses_annuelles_estimees_min] => 1170.000000
    [dpe_depenses_annuelles_estimees_max] => 1630.000000
    [dpe_depenses_annuelles_estimees_annee] => 0
    [dpe_version] => DPE_v07-2021
    [dpe_date_reference_conso] => 2021-01-01
    [dpe_cout_conso] => 0.000000
    [honoraire_frais_dossier] => 0
    [honoraire_etat_lieux] => 0
    [pourcentage_honoraire_acquereur] => 0
    [copropriete] => 0
    [copropriete_nb_lots] => 0
    [copropriete_charges_annuelles] => 0.00
    [copropriete_procedure_syndicat] => 0
    [honoraire_a_charge_de] => 1
    [prix_hors_honoraire] => 0
    [url_bareme] => https://assets.adaptimmo.com/bareme/73012/73012/bareme.pdf
    [liste_photos] => Array
        (
            [photo] => Array
                (
                    [0] => https://photos.exportadapt.com/73012/730127242_14.jpg
                    [1] => https://photos.exportadapt.com/73012/730127242_4.jpg
                    [2] => https://photos.exportadapt.com/73012/730127242_11.jpg
                    [3] => https://photos.exportadapt.com/73012/730127242_3.jpg
                    [4] => https://photos.exportadapt.com/73012/730127242_12.jpg
                    [5] => https://photos.exportadapt.com/73012/730127242_6.jpg
                    [6] => https://photos.exportadapt.com/73012/730127242_8.jpg
                    [7] => https://photos.exportadapt.com/73012/730127242_7.jpg
                    [8] => https://photos.exportadapt.com/73012/730127242_1.jpg
                    [9] => https://photos.exportadapt.com/73012/730127242_2.jpg
                )

        )

)

← Back to results
Maison. 6 pièces
Les Avanchers Valmorel
Exclusive
---
Come and discover exclusively at GSI, an exceptional property! In an idyllic setting at an altitude of 1400m. An exceptional panorama for this renovated alpine chalet accessible by track in summer. Close to the ski slopes. Warm mountain atmosphere with these beautiful pieces in old wood. Large bright living room with exposed beams, fitted and equipped kitchen, 2 bedrooms, a spacious mezzanine which will offer comfort for your whole family! Garage and large veranda on the ground floor. Spring water, electricity with solar panels gives you the autonomy you need. Enjoy this unique property with a history and a sumptuous setting!
Ref : 9558
474 000 €
Honoraires à la charge du vendeur
Les Avanchers Valmorel
6 pièces - 100 m2
Energy performance diagnostics
Greenhouse gas emmissions
Greenhouse gas emmissions
Low greenhouse gas emissions
15

15

15

15

15

15
High greenhouse gas emissions
Measurement index kgeqCO2/m2.an
Energy consumption
Low energy cost accommodation
365

365

365

365

365

365

365
High energy consuming accommodation
Unit of measure expressed in kWEP/m2 per year
Nos biens similaires
à la vente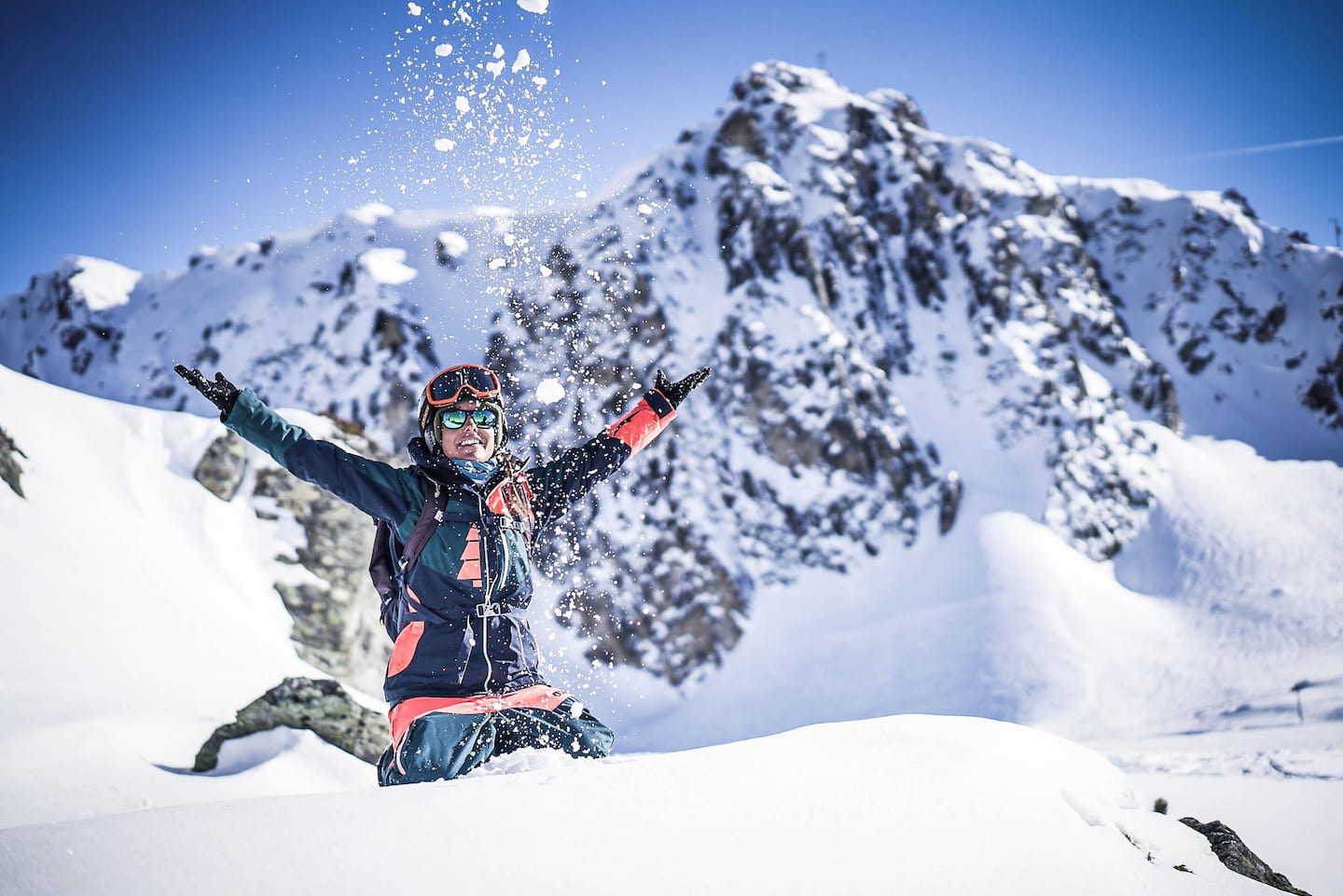 EARLY BOOKING HIVER 2023/2024
Jusqu'à -20%*


sur votre hébergement
sur une sélection de destinations
Arrivées et départs tous les jours minimum 3 nuits
*Offres soumises à conditions, valables selon disponibilités et suivant la destination, les périodes de réservation et non cumulables.
Les prix et réductions sont susceptibles de varier en fonction de notre politique tarifaire.