Array
(
    [code_client] => 73012
    [motdepasse_client] => Array
        (
        )

    [reference] => 730127395
    [date_creation] => 20230330
    [date_maj] => 20230425 10:01:05
    [date_maj_prix] => 20230425
    [agence] => GSI IMMOBILIER
    [agence_numage] => 73012
    [agence_tel] => Array
        (
        )

    [agence_email] => Array
        (
        )

    [agence_adresse] => Siège social 22 Square de la Liberté
    [agence_cp] => 73600
    [agence_ville] => MOUTIERS
    [agence_fax] => Array
        (
        )

    [agence_site] => www.gsi.immo
    [societe_raison_sociale] => GSI IMMOBILIER
    [societe_forme_juri] => SAS
    [societe_siret] => 333 999 365 
    [societe_capital] => 500000.00
    [societe_tva_intra] => FR38333999365
    [societe_adresse] => Siège social 22 Square de la Liberté
    [societe_code_postal] => 73600
    [societe_ville] => MOUTIERS
    [societe_carte_pro_num] => CPI73012016000005545
    [societe_carte_pro_date] => 20220322
    [societe_carte_pro_pref] => Chambre de Commerce et d'Industrie de la Savoie - 5, rue Salteur - CS 22416 - 73024 CHAMBERY Cedex
    [societe_directeur_publication] => Stéphane GIRAUD
    [societe_caisse_garantie] => GALIAN Assurance, 89 Rue de la Boetie 75008 PARIS, 640 000 €
    [societe_rcs] => B333999365
    [nego_nom] => Sabine GORRAND
    [nego_tel] => 06 78 33 81 58
    [nego_email] => sgorrand@gsi.immo
    [nego_cp] => 73550
    [nego_ville] => MERIBEL LES ALLUES
    [nego_latitude] => 0.7922936538395
    [nego_longitude] => 0.1146096650714
    [nego_siren] => Array
        (
        )

    [mandat] => 173381
    [type_mandat] => exclusif
    [date_debut_mandat] => 20230328
    [date_fin_mandat] => 20240328
    [operation] => vente
    [cession_droit_bail] => 0
    [vendu_loue] => 0
    [viager] => 0
    [viager_bouquet] => 0.00
    [viager_rente] => 0.00
    [viager_nb_tetes] => 0
    [viager_age_tete_1] => 0
    [viager_age_tete_2] => 0
    [famille] => appartement
    [type] => Appartement
    [idtype] => 2
    [code_postal] => 73550
    [ville] => MERIBEL
    [latitude] => 0.7924118564713
    [longitude] => 0.1146695579788
    [geoloc_precise] => 1
    [adresse_reelle] => Array
        (
        )

    [code_postal_reel] => 73550
    [ville_reelle] => MERIBEL LES ALLUES
    [latitude_reelle] => 0.7924337426919
    [longitude_reelle] => 0.1145630804884
    [pays] => France
    [zone] => MERIBEL
    [secteur] => MERIBEL STATION
    [prix] => 720000
    [loyer_reference_majore] => Array
        (
        )

    [encadrement_loyer] => Array
        (
        )

    [loyer_de_base] => Array
        (
        )

    [complement_loyer] => Array
        (
        )

    [date_dispo] => Array
        (
        )

    [date_echeance_preavis] => Array
        (
        )

    [taxe_habitation] => 1023.000000
    [taxe_fonciere] => 1100.000000
    [charges_mensuelles] => 0
    [pas_de_porte] => 0.00
    [siret] => Array
        (
        )

    [vedette] => 0
    [prestige] => 0
    [neuf] => 0
    [surf_hab] => 53
    [surf_sejour] => 0
    [surf_bureau] => 0
    [surf_carrez] => 52.83
    [surf_terrain] => 0
    [piece] => 3
    [chambre_hotes] => 0
    [plain_pied] => 0
    [nb_etage] => 0
    [num_etage] => 0
    [dernier_etage] => 1
    [rdc] => 0
    [nb_chambre] => 2
    [chambre_rdc] => 0
    [nb_sdb] => 1
    [nb_salle_deau] => 0
    [nb_wc] => 1
    [chauffage] => Array
        (
        )

    [balcon] => oui
    [cuisine] => aménagée
    [cour] => 0
    [meuble] => 0
    [ascenseur] => 0
    [nb_garage] => 0
    [nb_parking_int] => 1
    [nb_parking_ext] => 0
    [terrasse] => 1
    [avec_exterieur] => 1
    [piscine] => 0
    [vue] => Dégagée
    [ebe] => 0.00
    [ca] => 0.00
    [bail_duree] => Array
        (
        )

    [bail_date_fin] => Array
        (
        )

    [longueur_vitrine] => 0
    [annee_constr] => 1997
    [cave] => 1
    [exposition] => Array
        (
        )

    [etat_general] => Array
        (
        )

    [defisc] => 0
    [visite_virtuelle] => Array
        (
        )

    [dist_centre_ville] => Array
        (
        )

    [dist_Animation] => Array
        (
        )

    [dist_ecole] => Array
        (
        )

    [dist_Commerce] => Array
        (
        )

    [dist_bus] => Array
        (
        )

    [dist_plage] => Array
        (
        )

    [dist_autoroute] => Array
        (
        )

    [dist_tramway] => Array
        (
        )

    [dist_aeroport] => Array
        (
        )

    [dist_gare] => Array
        (
        )

    [dist_port] => Array
        (
        )

    [proximite] => Array
        (
        )

    [environnement] => Array
        (
        )

    [titre_fr] => A saisir
    [texte_fr] => Bel appartement situé dans une petite résidence du quartier Morel proche du télésiège. Il dispose de 2 chambres et d'un séjour qui s'ouvre sur une terrasse plein ouest.  Il compte également une cave et un casier à skis équipé d'un chauffe chaussures. Idéal été comme hiver. Commerces et arrêt navette à moins de 300 mètres.  Possibilité d'acquérir une place de parking couverte dans la résidence en sus du prix de vente : 30.000 €  Bien soumis au statut juridique de la Copropriété. Nb de lots : 45. Charges annuelles de copropriété (Montant moyen annuel quote-part du budget prévisionnel vendeur) : 1 559 €.
    [titre_uk] => Apartment close to the Morel skilift
    [texte_uk] => Beautiful apartment located in a small residence in the Morel area near the chairlift. It has 2 bedrooms and a living room which opens onto a west-facing terrace. It also has a cellar and a ski locker equipped with a boot heater. Ideal summer and winter. Shops and shuttle stop less than 300 meters away.  Possibility to buy a covered parking space in the residence for the price of: 30.000 €,  Although subject to the legal status of the co-ownership. Number of lots: 45. Annual co-ownership charges (average annual amount as a share of the seller's forecast budget): €1.559.
    [titre_de] => Array
        (
        )

    [texte_de] => Array
        (
        )

    [titre_es] => Array
        (
        )

    [texte_es] => Array
        (
        )

    [titre_it] => Array
        (
        )

    [texte_it] => Array
        (
        )

    [titre_nl] => Array
        (
        )

    [texte_nl] => Array
        (
        )

    [dpe_non_soumis] => 0
    [dpe_consom_energ] => 376
    [dpe_lettre_consom_energ] => E
    [dpe_emissions_ges] => 12
    [dpe_lettre_emissions_ges] => C
    [dpe_etiquettes_vierges] => 0
    [dpe_date] => 20230331
    [dpe_depenses_annuelles_estimees_min] => 1250.000000
    [dpe_depenses_annuelles_estimees_max] => 1730.000000
    [dpe_depenses_annuelles_estimees_annee] => 0
    [dpe_version] => DPE_v07-2021
    [dpe_date_reference_conso] => 2021-01-01
    [dpe_cout_conso] => 0.000000
    [honoraire_frais_dossier] => 0
    [honoraire_etat_lieux] => 0
    [pourcentage_honoraire_acquereur] => 0
    [copropriete] => 1
    [copropriete_nb_lots] => 45
    [copropriete_charges_annuelles] => 1559.00
    [copropriete_procedure_syndicat] => 0
    [honoraire_a_charge_de] => 1
    [prix_hors_honoraire] => 0
    [url_bareme] => https://assets.adaptimmo.com/bareme/73012/73012/bareme.pdf
    [liste_photos] => Array
        (
            [photo] => Array
                (
                    [0] => https://photos.exportadapt.com/73012/730127395_8.jpg
                    [1] => https://photos.exportadapt.com/73012/730127395_11.jpg
                    [2] => https://photos.exportadapt.com/73012/730127395_7.jpg
                    [3] => https://photos.exportadapt.com/73012/730127395_2.jpg
                    [4] => https://photos.exportadapt.com/73012/730127395_10.jpg
                    [5] => https://photos.exportadapt.com/73012/730127395_9.jpg
                )

        )

)

← Back to results
Appartement. 3 pièces
Meribel
Exclusive
---
Beautiful apartment located in a small residence in the Morel area near the chairlift. It has 2 bedrooms and a living room which opens onto a west-facing terrace. It also has a cellar and a ski locker equipped with a boot heater. Ideal summer and winter. Shops and shuttle stop less than 300 meters away.
Possibility to buy a covered parking space in the residence for the price of: 30.000 €,
Although subject to the legal status of the co-ownership. Number of lots: 45. Annual co-ownership charges (average annual amount as a share of the seller's forecast budget): €1.559.
Ref : 173381
720 000 €
Honoraires à la charge du vendeur
Meribel
3 pièces - 53 m2
More Details
PROPERTY SUBJECT TO THE LEGAL STATUS OF THE CO-OWNERSHIP
Provisional part
share vendor
1559 €/an
Carrez law surface area
52 m2
Energy performance diagnostics
Greenhouse gas emmissions
Greenhouse gas emmissions
Low greenhouse gas emissions
12

12

12

12

12

12
High greenhouse gas emissions
Measurement index kgeqCO2/m2.an
Energy consumption
Low energy cost accommodation
376

376

376

376

376

376

376
High energy consuming accommodation
Unit of measure expressed in kWEP/m2 per year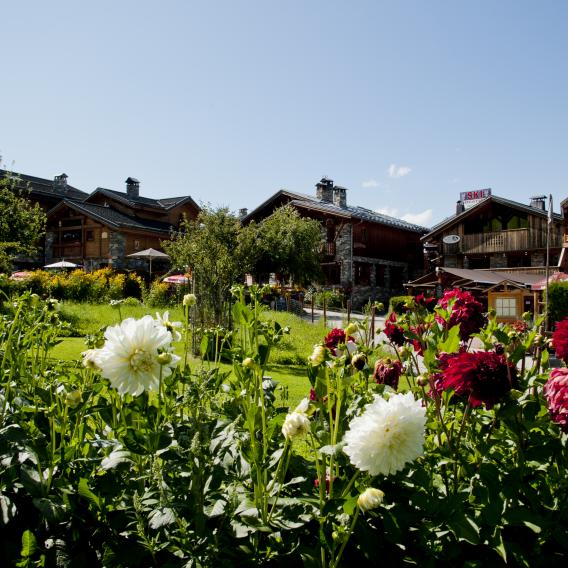 EARLY BOOKING ETE 2023
Jusqu'à -10%


sur votre hébergement
sur une sélection de dates et de destinations
Arrivées et départs tous les jours minimum 3 nuits